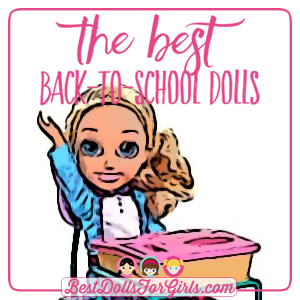 The long weekend is over, and if your kids weren't already back in school, they are probably going back sometime this week. Most kids go through a variety of emotions on the first day back. They leave happy and excited and sometimes a little scared, and don't always come home so glad and even a little deflated.
Want to turn that frown upside-down? One of these delightful back-to-school themed fashion dolls will undoubtedly put a smile on your little girl's face. As a bonus, use it to talk about any fears or issues that may be happening.
I chose the following dolls because they are popular fashion dolls, they have a school theme, and they showcase a variety of tastes. Some are newer than others, and some are more popular with parents while others are more popular with children.
Monster High First Day of School Draculaura Doll
Mattel
Recommended Age: 6 to 10 Years
---
First released in 2016, these redesigned Monster High dolls coincided with the release of their movie, 'Welcome to Monster High: The Origin Story.' The First Day of School line of Monster High dolls includes a slight redesign of joints and slightly larger head and body measurements.
Their appearance is also a little softer. The eyes are a bit more full, and they wear less makeup than seen on older versions. The hair isn't as impressive as the older style, but it's not bad. Overall, the doll feels more durable than the original style.
Does your little girl have an older Monster High doll? Old clothes fit new dolls and vice-versa, though not precisely. Monster High First Day of School Draculaura is super-poseable with articulating head, shoulders, elbows, wrists, hips and knee joints.
Her outfit is similar to the one she wears in the movie, which is adorable and approachable. She wears a rather large plastic bat-shaped ruffle scarf, batwing earrings, and pink bat purse, pink heels with batwing heels.
She doesn't come with a brush or stand like older versions. The box has a little rundown on her personality and backstory.
Room To Study Apple White
Mattel
Recommended Age: 6 to 10 Years
---
Fans of the popular Ever After High series from Netflix have been waiting for this! For a while, Apple White was the only doll available in Back to School line, but now it seems she's a bit difficult to find while the rest of the Ever After High Back to School dolls are widely available.
This set is adorable, and as far as I can tell, the most extensive of the line. From what I understand, this lovely princess is the only one in the line to ship with this many accessories. Apple White's beautiful Room to Study set includes a desk and chair to study at, a gold laptop, a gold-framed mirror with stand, and a gold textbook that has a storage compartment inside.
Apple wears an adorable white knit shirt with the school logo, a letter jacket, and a red skirt with gold print. She also comes with two pairs of shoes, a purple backpack, tiara and horn-rimmed glasses that look fabulous on her.
Update September 2018 – As I mentioned above, it appears that the rest of the Ever After High Back-To-School dolls were released earlier this year. Click to see them here.
Barbie Career Teacher Doll and Playset
Mattel
Recommended Age: 3 Years and up
---
For our third doll and second set in this article, we chose this terrific Barbie Teacher set. We love it because it promotes role-playing and imaginary play from the perspective of a teacher.
Parents can use this set to start a dialogue with their child to learn about and help with their relationship with their educators, and children will love to pretend that they are the teacher, teaching to their very own student!
What I love about her: She looks more like a teacher and less like a typical Barbie. Her outfit is very much what you would expect a stylish teacher to be wearing, a professional-looking, yet relaxed outfit.
Also included: The cutest little toddler student ever is waiting for her next lesson! She has a school desk to sit in that is just her size, and her tiny little lunch box opens up.
The teacher has a chalkboard that actually works, and on the other side is a world map. The set also includes a piece of chalk, a globe, scissors, glue bottle, and a chalkboard eraser that Barbie can hold. She is easily one of my favorite Back-to-School themed fashion dolls.
Lottie School Days Doll
Lottie Dolls
Recommended Age: 3 Years and up
---
Looking for a doll that's a bit more realistic? Meet Lottie! She is a body-positive doll with an age-appropriate style. You won't find impossibly proportioned figures or unrealistic shoes here! There is no jewelry or makeup on this doll, either.
She has wonderfully long, silky hair that any little girl would love to comb. Her clothing is a little less Americanized as well since School Days Lottie is a British creation.
She wears a school uniform consisting of a white long-sleeved shirt and a blue dress, white knee-high socks and blue Mary Jane shoes. A red and white striped scarf, a light blue backpack filled with tiny little books, and a pair of black framed glasses accessorize Lottie School Days.
She is surprisingly small. At 7 ½", she is much smaller than most fashion dolls. While this makes it possible for the doll to stand on her own two feet, it also means that finding clothes that will fit her is a little more difficult.
Barbie Club Chelsea Back to School Set
Mattel
Recommended Age: 3 Years and up
---
I'm a big fan of the Barbie Club Chelsea dolls, and the Back to School set is very cute! While Chelsea is wearing her signature blue-and-pink colors, her stylish flair is toned down just enough to be appropriate for school.
Her coifed hair is perfectly set into a blonde side-ponytail. Her school uniform includes the sweetest blue jacket and plaid-style skirt, knee-high pink socks and blue flats.
Chelsea can sit at her Kitty desk, and because it has a basket that Chelsea's legs fit into perfectly, she doesn't fall out. The desk's top also has depressions where you can put her school supplies and lifts open for storage.
While she has a chalkboard on a stand similar to Barbie Teacher, this one isn't a real chalkboard. Instead, it's a black eraser board that comes complete with a working white marker and hippo-shaped eraser.
This 14" fashion doll is a little more appropriate for younger girls.