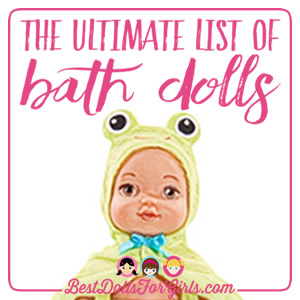 Bath time baby dolls have a unique responsibility: to become the very best friend of a bath-adverse toddler. If we're honest, all toddlers are somewhat bath-adverse at some point. Moms never really understand what happens, but there comes a time when our cute little babies who were enjoying their warm, soothing bedtime baths grow suddenly into toddlers (complete with sticky hair spikes) who refuse to spend more than two minutes in the bathtub. With my brood, it started at about the same time as confidence in the word "No" manifested.
When I introduced bath-safe dolls to each of my toddlers, we were able to roleplay through their bath time issues and get back on track for bedtime. Today, I'm going to focus on baby dolls because I find they are the best for role-playing. Toddlers seem to respond a little better when they have a small dolly to parent themselves.
I chose the following dolls mainly because they are specifically designed to get wet. They all drain quickly, have materials that allow for quick-drying, or have other features that enable it to be a bath toy. I also chose dolls that came with their little bath toys and accessories, as it struck me that if your baby has a baby for the bath, your baby's baby should also have her toys.
Splash 'N Float Flamingo
Cabbage Patch Kids
Recommended Age: 2 Years and Up
---
This is a fabulous choice for a bath-safe doll. In the world of Cabbage Patch Kids, she's a newborn-sized doll, which means that she's really tiny at 9″ tall. That makes her the perfect size for any children, but especially for toddlers.
She is also built for the bath. Her body is composed entirely of Vinyl and has holes drilled into the body and each of her appendages for proper drainage. For complete draining and drying instructions, refer to the bottom of the toy's packaging, where they go over it in detail.
This sweetheart of a bath doll comes with a quick-dry swimsuit, flower-shaped sunglasses, and a fabulous flamingo floaty.
Baby Alive Shimmer 'n Splash Mermaid
Hasbro
Recommended Age: 3 Years and Up
---
Baby Alive Shimmer 'N Splash is one of the newest addition to my list of waterproof baby dolls. She's also a bit multifunctional. Not only is she a bath doll, but she's also a drink-and-wet doll and a mermaid doll.
I want to point out that the people who designed this doll must have put a lot of thought into it. Baby Alive Shimmer 'N Splash has a lot of features to help her drain and dry. She has six well-placed drainage holes across all of her body pieces, and she comes with instructions on how to dry her properly. Her clothing is made of a fast-drying material that doesn't hold water.
I want to talk a little more about her mermaid tail. It easily pulls up to convert into a cute skirt, and both the skirt and top have Velcro fasteners to make it easy for little hands to open and close. Throw both pieces of clothing in the laundry to easily clean.
She comes with a sippy cup and a diaper, and more cups and diapers are available for purchase.
Related: Bath-Safe Mermaid Dolls
BathTime Baby Elephant Doll
Adora
Recommended Age: 12 Months and Up
---
This doll doesn't even look like it should go in the tub, but that's what she's precisely meant to do! She may seem like a traditional baby doll complete with eyes that open and close, but her soft body and swimsuit are made of special quick-drying materials that will dry out long before the next bath. If you're concerned about keeping this doll clean and mold-free, she's also machine washable.
This adorable little water baby comes with a pachyderm-inspired terry cloth bathrobe and a monogrammed towel. The swimsuit is printed onto the soft body of the doll.
Adora Bath Time Baby Dolls are safety tested, BPA and Phthalate-free, and are hypo-allergenic.
Little Mommy Bubbly Bath Time Baby Dolls
Mattel
Recommended Age: 2 Years and Up
---
While this doll may not have been created to go directly into the bath, the Bubbly Bathtime Baby Doll certainly can! And for those times in between baths, your little girl can practice bathing this doll in her own doll-sized bathtub.
I feel like this doll is a bit more of a teaching tool than you might think. She not only comes with bunches of bathroom accessories, like a toothbrush and washcloth, but there are two dirty marks on her tummy that vanish when wiped with warm water. Learning about personal hygiene is never a bad idea.
Did I mention that the foam dispenser actually works? Just add water and a little bubble bath solution!
La Newborn Deluxe Bath Time Fun Set
JC Toys
Recommended Age: 2 Years and Up
---
Now, I'm not personally a fan of the newborn style of doll, but this little cutie caught my eye.
The La Newborn Deluxe Bath Set includes this beautiful doll, a newborn hospital bracelet, the tub, a cloth diaper, adorable onesie, comb, rubber ducky, rattle, and a towel.
The doll itself is 13 inches long and made of washable vinyl. She has just the right amount of detail, like cute dimples and chubby cheeks, to engage any little girl in oodles of pretend play.
Waterbabies Bath Time Fun Froggie
Just Play
Recommended Age: 3 Years and Up
---
I'm in love with Waterbabies! These dolls are designed to be filled with water to give them a uniquely baby-like feel.
The Bath Time Fun Froggie doll is one of the dolls in the line that's made to go right in the bath with your child. Waterbabies created this little frog in honor of their 25th Anniversary.
And seriously, could they have picked a cuter theme? I'm sure you can hear the swooning in my words by now, but I can't help it. I love the frog towel and pool float.
Though this baby doll won't float on her own, her floaty will keep her above water while in the tub.
Mon Premier Bébé Bath Baby Doll
Corolle
Recommended Age: 18 Months and Up
---
Last but far from least favorite of our Bath Time Baby Dolls, we have Mon Premier Bébé Bath.
If you don't have any experience with Corolle dolls, you are seriously missing out. They are high-quality dolls that are meant to be played with while retaining their adorable looks.
Bébé is a 12″ doll that was created not just for bath time, but also to stand up to chlorinated pools and even the heavy salt of the ocean.
Her soft body will dry out overnight – she has a hook on which she can hang dry. Her vinyl limbs and head are very easy to clean, and her eyes open and close.