We have had the pleasure of getting to know Baby Stella for close to six months, and my experience with her has been encouraging enough that I felt that it was time to write an official review of her. She's a fantastic doll that has warmed my heart and made mommy-daughter playtime extra fun and full of giggles.
I'd read several threads on mamma forums talking about these dolls, and though I was familiar with them before the baby arrived, I'd heard enough good things that I felt she'd be an excellent gift for my little one.
Does she live up to her reputation? Read on to find out!
Baby Stella is a very well-loved toy in this house. My daughter loves to give Stella plenty of hugs and kisses. Though she hasn't yet discovered that the doll can be dressed and undressed, it's just a matter of time.
Stella is a surprisingly educational doll. First, it was the simple act of pulling the pacifier on her face and placing it back on. Such a simple action is serious entertainment for an 11-month-old, folks. Next, it was dragging Stella everywhere. Now, we're in the stage where words are starting to form, and many days include talking about body parts and facial features, and Stella has been a marvelous teaching tool.
As my daughter develops, Baby Stella will spark her imagination and promote nurturing role-play. She's not just another cute and cuddly doll!

Features
Outfit and diaper both have Velcro fasteners to make it simple for little fingers to dress and undress the doll.
Teachable Anatomy! From embroidered facial features to detailed fingers and toes.
Soft materials include a firm polyfill and warm, chenille-like skin.
Inclusive! There are seven different dolls with different skin tones and hair colors. Stella can be just like your baby, or like one of your baby's friends!
Loads of accessories available, from outfits to cradles and strollers and everything in between.
I want to talk a little about the amount of detail that this doll has. I mentioned above that Baby Stella has embroidered facial features and detailed fingers and toes.
To add to that, she also has little dimples on her arms and legs, and right above her bum, just like a chubby baby. Her legs also are slightly bent with knees turned outward, also like a baby. There is much more detail designed into this doll than I would have expected for a plush doll – right down to her cute little belly button.
Also, she's quite firm. She's not so firm that it's off-putting, but she's not super-squishy as well. Stella falls somewhere in between, where you would imagine perfectly-huggable would lie.
How This Doll Performs
The littlest reviewer adores her even more than I do. It was a Christmas gift from her grandmother last year, and though Little wasn't walking confidently yet, she had the hugs-and-kisses skill firmly grasped. Stella has received many hugs and kisses since then.
I have noticed that the little fibers that make up the doll's surface can pick up pet hair and dust quite quickly, but overall, she's pretty easy to clean and keep clean.
Her clothing isn't quite as fabulously made as she is, but it's not horrible, either. There were some loose threads I had to cut off, but otherwise, it's pretty decent. The diaper is made of really thin yet oddly sturdy material, and the Velcro fasteners are very firmly sewn on.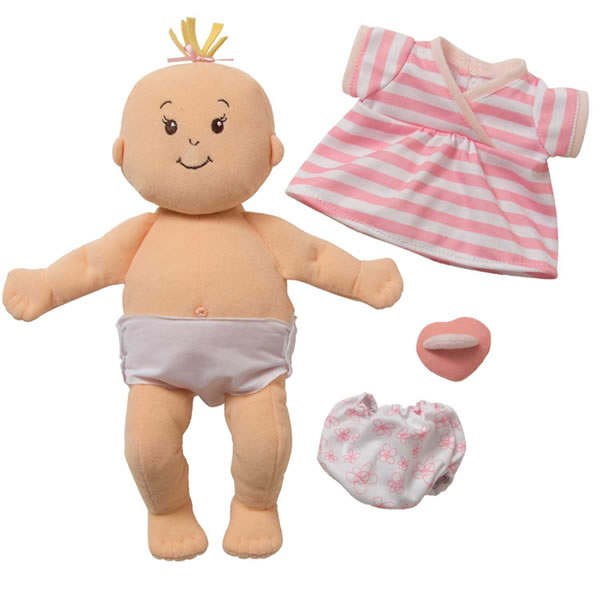 Dimensions
How big/what size is Baby Stella? She's marketed as a 15″ doll, but if you are more interested in what clothes will fit her, some newborn tops and bottoms fit very well.
Related: Our Favorite Wee Baby Stella Accessories (Updated!)
Pros
Highly educational – Teach toddlers about anatomy and help to develop fine motor skills. Older children benefit from imaginative, nurturing play.
Grows with your child – This is an excellent doll for babies and preschoolers alike.
Loads of accessories available.
Soft and cuddly! Features are adorably embroidered.
Very well made with no loose parts. Baby-safe!
Cons
Picks up dirt and pet hair very easily. Make sure to wipe her down with a damp cloth to keep Baby Stella looking good!
The diaper that came with Baby Stella was fraying a bit. Check to make sure there aren't any loose threads.
The older version with the headband can twist and become ragged fast.
Price
Stella is higher-priced than most dolls, and in some ways, I can understand why some people don't think that she's worth it. I don't believe that you're just buying a doll; you're buying an educational tool, and a friend, for your child. Baby Stella is a doll that can grow with your child for years to come.
Baby Stella Doll Rating
When I set out to write a review about Baby Stella, I chose her because I am incredibly familiar with her. What I didn't expect was to have my heart warmed all over again by her. She has helped to create many memories between my child and me, and I suspect that several more will be created for both of us.
If you are thinking about getting a Baby Stella doll as a gift for your child or someone else's, I hope I have convinced you to do so. She is like a ray of sunshine!

Update: (2020) Where is our Baby Stella now?
Since I first wrote this review back in 2016, I thought I'd give an update. We still have Baby Stella. She has a couple of different outfits and a few other accessories. She's still played with all the time, and she looks like she did the day we got her, even if we have to brush the dog hair off of her from time to time.
The only issue that we've had is that my little's grandmother, who originally gifted Baby Stella to her, sent an outfit that was meant for Wee Baby Stella, which is a smaller doll than our Baby Stella. It was a pretty floral dress with matching red shoes. While it's really too small for our doll, my girl has insisted we keep it and regularly squishes Stella into it.
Personally, I'd avoid making that same mistake. Otherwise, she's a keeper.