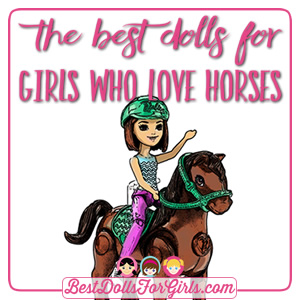 In my research for this article on dolls with horses, I wanted to understand what it is about horses and horse dolls that girls love so much. It turns out, I opened a Pandora's box that I may never close. What is it about horses that causes a girl to throw away all other interests to become wholly obsessed with all things equine?
For those that find a love for horses at an early age, it can become a life-defining experience. The love of horses can turn a directionless child into the next generation's veterinarian, the next horse trainer, even the next top competitor at the Olympics. And at the beginning of each of these paths, we can often find a little girl playing with dolls with horses.
Here are a few different dolls with horses we know any horse-crazy girl would love.
Barbie & Chelsea Hugs 'N' Horses Set
Mattel
Recommended Age: 3 Years and Up
Features
Barbie and Chelsea dolls each have their own horse
Loads of accessories for endless imaginative play
Smart pricing translates to an exceptional value
---
In this doll and horse set, Barbie and Chelsea each have a horse to ride that's just the right size! Add in a variety of accessories, including a corral, riding gear, feeding supplies, and a puppy, and we're ready for a horse-drawn adventure.
What's Hot
Do you want a big horse and doll set? Barbie Hugs 'N' Horses is one of the most complete currently available. With all its included accessories, we think the price is on point! Combine that with some of the highest customer ratings for any doll set, and we have a solid winner.
What's Not
Honestly, we can't think of anything, unless we bring up that old argument about how Barbie is unrealistic, which we could, but it's a tired argument. We love Barbie, and we're happy to add her to our list of favorite dolls with horses. Though, if you were to give this as a gift, we suggest clearing it with the child's parents first.
Bottom Line
The Barbie Hugs 'N' Horses set will keep horse-loving kids entertained for hours at a time. Though Barbie is typically a fashion doll, she's also an equestrian role model aiming to provide her adorable sister Chelsea some riding lessons.
Elsa & The Nokk (Disney's Frozen 2)
Hasbro
Recommended Age: 3 Years and Up
Features
Based on the eternally popular Elsa from Disney's Frozen franchise
Nokk, horse form of the water spirit is striking with a glittery, water-like translucence
Perfect choice of doll and horse for younger kids
---
While this set breaks away from our dolls with horses theme, we know how many Elsa fans are out there. In Frozen 2, Elsa tames the mighty water spirit Nokk who then becomes her companion. This horse and doll capture that magical relationship we loved from the movie. The Elsa doll is wearing her gown from their first meeting. I like that there is a shimmery layer to her dress, but I'm not keen on her painted-on pants. And being a mom of a young girl, I love that she's not wearing any shoes to lose.
What's Hot
The Nokk doll may look a little odd in online images, but the pictures don't quite capture the beauty of the choice of materials. Many reviewers from around the web describe Nokk's look in an extremely positive light.
What's Not
Some people have expressed disappointment with the way this doll and horse fit together. Some complaints include the horse doll falling over, while others find that Elsa doesn't fit on Nokk very well. Either way, it might not really matter, depending on how big an Elsa and Horse fan you have.
Bottom Line
Once again, this Frozen 2 doll and horse set is one of the better choices for girls who are both horse fans and Elsa fans. The design may be a poorly thought out, but it's perfectly fine in terms of quality. The majority of children would still be thrilled to have this playset.
Lottie Pony Pals Sophia and Seren Horse with Doll
Arklu
Recommended Age: 3 Years and Up
Features
Made from a phthalate-free vinyl plastic
Based on the average proportions of a nine-year-old child
Both doll and horse have rooted hair
---
Sophia and her horse Seren are a lovely doll and horse duo that will please both kids and their parents. This 7″ doll is much smaller than most fashion dolls, but what she lacks in height, she makes up for in inspiration. Sophia and Seren both have rooted hair and come with a full set of riding gear. Complete this doll set with the accessory .
What's Hot
I am a big fan of Lottie Dolls. These award-winning dolls are lovely for younger girls because they are designed with realistic body proportions. The doll is of high-quality construction, as are her clothes.
What's Not
While Lottie Dolls themselves appear to be quite high in quality, apparently, the horses in the brand are not entirely of the same standard. I've read some complaints about legs damaging easily as well as difficulties with fasteners, both in sets of dolls with horses, and horses sold separately.
Bottom Line
This is another excellent choice for younger kids. Even with the known horse issues, Sophia and her accessories are well worth the price of the entire set.
More Lottie Dolls: Back-To-School Doll Pick: Lottie School Days Doll
Barbie DreamHorse Set
Mattel
Recommended Age: 3 Years and Up
Features
Interactive horse doll can walk and dance
Responds to touch and to sound
Barbie sits firmly on the horse and doesn't fall off
---
Out of all of the dolls with horses I'm writing about today, this one seems to be the most extravagant. The Barbie Dreamhorse is voice and touch-activated horse that has over 30 actions and responses. The included Barbie doll has extra joints and is explicitly designed to work with this horse.
What's Hot
This isn't just a walking horse doll; it's a walking, eating, neighing, dancing, nuzzling horse doll that listens to commands far better than my dog. When it hears you, it will walk in your direction. Touching its rear hips causes it to walk in a 360° loop, while touching above its tail causes it to step forward. A few of its many other abilities include eating carrots, nodding yes or no, and dancing three different dances.
The issue I've heard over and over again from people who have other horses and dolls is that the doll tends to fall off. This is not the case with Barbie and her DreamHorse.
What's Not
It's also one of the more expensive horse and doll sets on my list. Still, I don't feel that it's outrageous until you realize that the horse doll is powered by 4xAA batteries and that you will need to pick some up at the same time. The batteries included in these toys are not built to last. Other complaints include that the horse doesn't do well on the carpet and that it can be a little noisy.
Recommended Reading
15 Career Options for Working With Horses, Mary Hope Kramer, The Balance Careers. A list of available careers for horse enthusiasts
Horse Crazy: Girls and the Lives of Horses, Jean Halley. An online forward and intro into her book of the same name.
Cool Horse Stories, Various Authors, HorseCrazyGirls.com. An online collection of stories written and posted to be shared with other horse-crazy girls.